How to work
The development of HepG2/C3A spheroids via our technology​
This workflow is valid for C3A (HepG2/C3A) cells. If other cell lines are going to be used in the experiment, parameters such as: a seeding density, centrifuge speed and an incubation time should be optimized (but values here will give an indication of where to start).​
Spheroid development
Click on the steps to learn more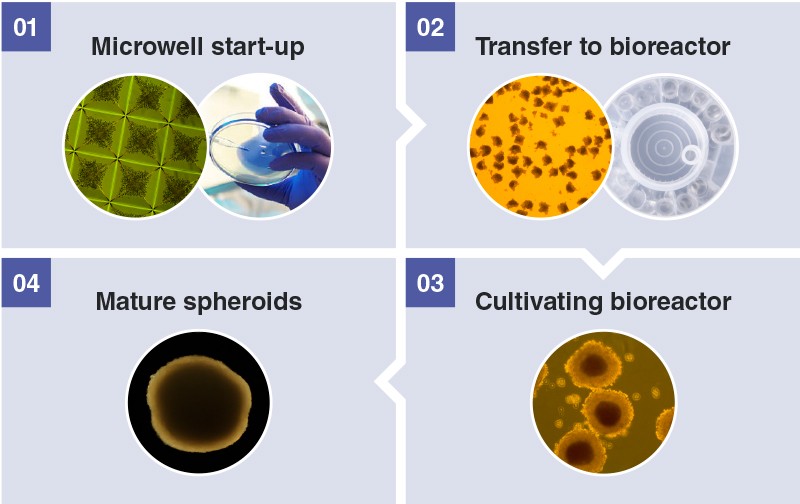 Microwell start-up
Day -1:
HepG2/C3A cells were seeded into each of the wells of the low adherent microwell plate at a seeding density of 1.2 × 106,
Centrifuged for 3 min at 120 x g
The cells were incubated in the low adherent microwell plate overnight to ensure aggregation
Transfer to bioreactor
Day 0:
Spheroids were detached from the microwell gently washing the wells with pre-warmed growth medium
Detached spheroids quality was determined using a light microscope.
Selected spheroids were then placed into bioreactors cultivated at 37 °C, 5% CO2, 95% air for 21 days
Cultivating bioreactor
Day 1-21:
The growth medium of each reactor was regularly renewed
The spent growth medium was collected for cfDNA extraction at each round of medium change for 21 days during the development of the spheroids (
The collected medium was centrifuged at 5000 × g for 5 min and the supernatant frozen at −20 °C
Mature spheroids
After end maturation period (18 days) there will be up to 300 hundrede spheroids in each bioreactor.
The spheroids can be used for experiments from the period and for several weeks/months
Using this procedure and reguarly changing bioreactors the spheroids can be kept alive for up to 300 days.
You have your own farm of mature spheroids (replacing your animal models)