ClinoStar
®
The ClinoStar is a clinostat CO₂ incubator which allows you to culture cells in 3D.
A tablet is used to control the temperature, CO₂ level and each of the 6 clinostat motors are (independently) controlled using an intuitive software.
The CO₂ and temperature in the chamber is blended by a centrally located fan to ensure a precise, homogeneous growth environment.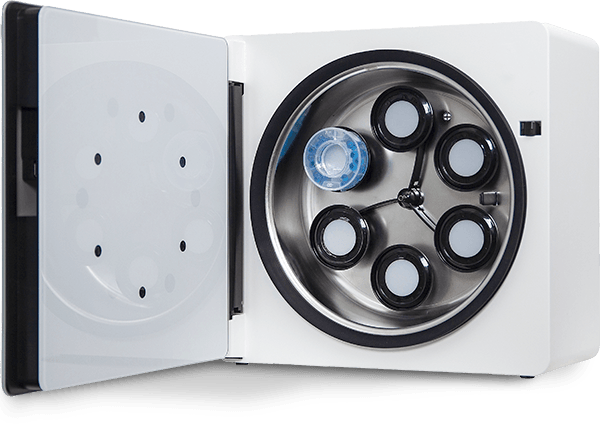 Features
Each reactor has an associated motor which can spin the reactor slowly. The speed of the motor can be precisely controlled individually using a

tablet

. The

tablet

can control multiple units.
A fan is installed in the chamber for ventilation purposes to ensure a uniform environment within the chamber.
For decontamination a UV-C beacon is placed in the chamber.
6 individual cameras allow monitoring of each bioreactor in real-time.
The door has a push to open mechanism allowing the user to open the door with the elbow, so the hands of the user can be used for holding bioreactors.
The unit has a small footprint and can be stacked up to 3 units high.
CO2-data
CO2 range [Vol.-% CO2]

0-10%

CO2 measurement

IR

CO2 pressure inlet

0.8 atm

Temperature data

Temperature range 6 °C above ambient temperature to

20

º

C above ambient

Temperature regulation accuracy
± 0.25ºC
Electrical data
Rated Voltage [V]
230 / 110
Power frequency [Hz]
50/60 Hz
Nominal power [W]
65
Phase (Nominal voltage)
1~
Measures
Internal diameter
305 mm
Internal depth
80 mm
External dimensions (W x H x D)
45 x 42 x 25 cm
Door
Closing mechanism
Push to open mechanism
Monitoring
Cameras
6 cameras are placed opposite to each axel
Camera resolution
5 Megapixel
| | |
| --- | --- |
| Decontamination | |
| Incorporated method | UV-C LED (Only when door is closed) 30 mA |
| Axles | |
| Capacity | 6 axles |
| Speed range (min-1) | 0 – 100 |
| Speed Accuracy | ±1 % |
| Direction | Clockwise and anticlockwise |
| Control | The speed of each axel can be controlled individually |
| Controller | |
| Device | Tablet based |
| Communication method | Wi-Fi, Ethernet |
| Screen size | 10,1 |
| Screen resolution | 1920 x 1200 |
| Units to control | 50 |
| Safety | |
| high-power UV LED | Only when door is closed |
| Features | |
| Vertical stacked configurations | Up to 3 units |
| Cluster configuration | Up to 50 units |