ClinoReactor
®
The ClinoReactor (patent pending) is an all-in-one bioreactor. The front wall of the chamber is also a lid which can be clicked on and off as desired giving full access to the chamber in a petri-dish manner.
The vents in top of the ClinoReactor ensures a constant flow of air over the membrane allowing CO₂ to be in equilibrium with the media inside the cell chamber. This can be useful for sampling or adding and removing large constructs.
The ClinoReactor has its own humidification system for minimizing the risks of infections and keeping the volume constant in the incubation chamber. The ClinoReactor has feet allowing it to stand unsupported making media exchange easy. Media exchange is done via the top vial and can be performed within a couple of minutes.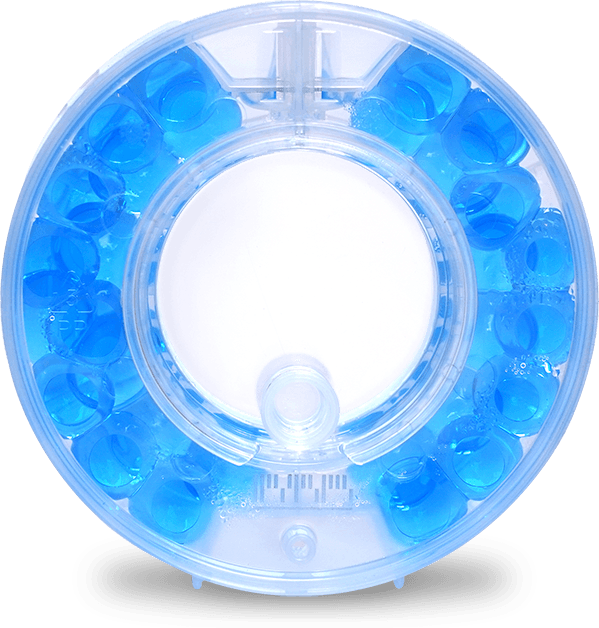 Features
Advanced bioreactor which allows you to culture cells as spheroids

Comes single wrapped

Has a 10 mL growth culture chamber

The humidification system consisting of water beads ensure constant volume of media.

A semi-permeable membrane ensure that growth media is in equilibrium with the CO₂ content in the incubator

The transparent front lid can be removed giving access to a petri-dish like cell culture chamber

Access ports together with the stand-up function allow easy exchange of media

The front port allows easy sampling of spheroids
 

ClinoReactor 10004-12 

Packing

 

1

2

 

vessels

 (1

2

 x 1 

vessels

)

 

Growth 

volume

 

10 

mL

 

Operating time in 

incubator

 

10 days

 

Shelf

 

life

 

1 year

Purity

 grade

 

Sterile,

Non-cytotoxic

 

Sterilisation

 

e-beam

 

Material housing

 

polypropylene

 

Membrane

 

0,2 

µ

m PTFE membrane

 

Top valve material

 

polypropylene

 

Lid valve material

 

polystyrene
 

Ultra-low adherent ClinoReactor 10006-12 

Packing

 

1

2

 

vessels

 (1

2

 x 1 

vessels

)

 

Ultra-low adherent coating solution

60 mL

Growth 

volume

 

10 

mL

 

Operating time in 

incubator

 

10 days

 

Shelf

 

life

 

1 year

Purity

 grade

 

Sterile,

Non-cytotoxic

 

Sterilisation

 

e-beam

 

Material housing

 

polypropylene

 

Membrane

 

0,2 

µ

m PTFE membrane

 

Top valve material

 

polypropylene

 

Lid valve material

 

polystyrene