*Note: You can download the full publication about omicron BA.5 and human brain organoids at the bottom of the page.
How has Covid-19 affected human brain organoids? 
It is an undesirable result – both for the patient and the virus – if infection leads to the death of the host. Therefore viruses usually evolve and become less pathogenic with time. In this way, they can enter, propagate and become a stable part of the microbial load of the general population.
COVID-19 has affected the lives of essentially everyone in the world, whether it be due to infections, inoculations, or restrictions. As such, it is important to keep an eye on new variants as they appear to see whether this benevolent evolution is occurring.
Also Read: Blastoids mimic IVF-derived blastocysts when grown in a 3D environment
Beware of long-term neurological complications
This question has been investigated in research led by Andreas Suhrbier from QIMR, Australia and their results are not reassuring.
Using a mouse model of infection he clearly demonstrated that the newer Omicron variant BA.5 shows increased neurovirulence, encephalitis, and mortality compared to the older BA.1 variant.
In addition, BA.5 infected human brain organoids (cortical) to a higher extent than both the BA.1 and the original ancestral isolate. Differing from earlier variants, infection did not appear to be mediated by the transmembrane protease TMPRSS22. The organoid model also demonstrated that the BA.5 variant could effectively suppress the anti-viral type 1 interferon response and suggested that new variants were more capable than old.
So while omicron-infected patients are exhibiting reduced respiratory symptoms, some BA.5 infected patients are experiencing increased loss of the sense of smell (anosmia).
This has been previously linked to long-lasting cognitive problems in COVID-19 patients. Thus, it appears to be critically important to be aware of the risk for acute and long-term neurological complications.
ClinoStar Method
Andreas suhrbier and his team has used the ClinoStar to grow "minibrains", utilizing the ClinoReactor to mature the human brain organoids so that they mimic the in vivo functionality.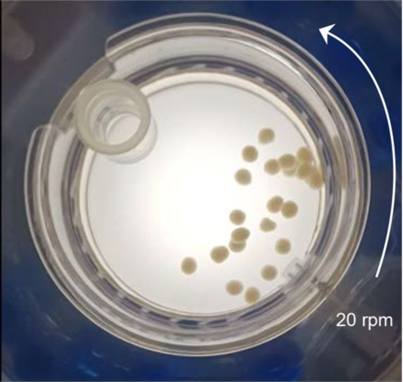 Developmental Biology
Blastoid models in 3D
Learn more about how to use the ClinoStar system to mimic in vivo performance using blastoids.